March For Kids
What is Mercy Home's March for Kids?
Mercy Home's March for Kids, presented by Google, is your chance to celebrate St. Patrick's Day while making a difference in the lives of hurting children. You can make it possible for young people who've suffered abuse and neglect to live in a safe, stable, and supportive home. You can provide healing from trauma. And you can give kids the tools they need to build brighter futures–tools like a good education, life skills, work experience, and career exploration.
There are a lot of ways to support Mercy Home's March for Kids. But the simplest way is to make a donation online to Mercy Home now through March 31st.
There's no better time to change the life of a child in need. Every donation you make to Mercy Home now through March 31st will be matched dollar for dollar by a generous donor! So your gift during March for Kids can go twice as far in helping our boys and girls build their futures.
Other Ways to Help Kids this March
For 28 years, our friends have celebrated the weeks around St. Patrick's Day by taking part in a variety of awareness raising and fundraising events on behalf of our young people. Thanks to them, March has been the month of Mercy Home in Chicago since 1994. Here are some of the ways you can be a part of these fun and meaningful festivities.
Join the Party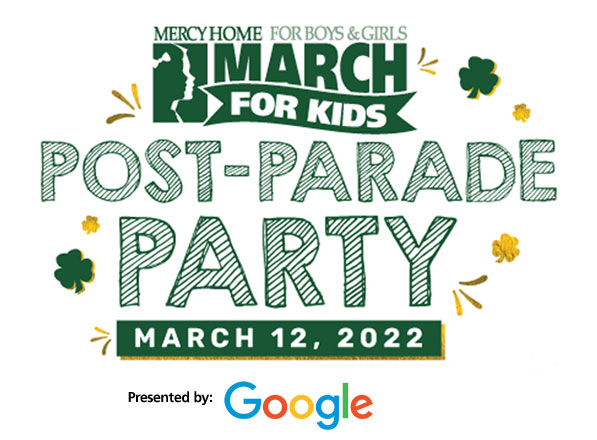 Come to downtown Chicago for the Chicago St. Patrick's Day Parade on March 12, then bring the whole family over to Venue Six10, just a short walk from the start of the parade route, for the Mercy Home for Boys & Girls March for Kids Post-Parade Party.
You'll enjoy live Irish music and step dancers, kid and adult beverages, Irish-themed food buffet plus a build-your-own mac-n-cheese bar for the kids, special children's activity section featuring carnival and arcade games, great prizes, balloon artists, and so much more — all from a beautiful venue overlooking the St. Patrick's Day festivities in Chicago's Grant Park.
Thanks to your incredible support, we're pleased to report that our Post-Parade Party is sold out! Thanks to all those who have supported the party. Hope to see you all next year!
COVID-19 PROOF OF VACCINATION & MASKS REQUIRED
Venue SIX10 requires any individual (5 years of age or older) to show proof that they are fully vaccinated against COVID-19 to enter and attend events at Venue SIX10. Individuals (16 years of age or older) must show matching photo ID, as well.
Venue SIX10 continues to require any individual (2 years of age or older) to wear a mask while inside Venue SIX10, except when actively eating and drinking.
To ensure these requirements are met, Venue SIX10 staff will be checking for proof of full vaccination for any individual (5 years of age and older) and matching ID for any individual (16 years of age and older), prior to admitting entrance to Venue SIX10. Venue SIX10 staff will be unable to permit entrance for any individuals that do not have the required documents.
Get Your Feet on the Street
Volunteer to collect donations for Mercy Home at the Chicago St. Patrick's Day Parade on Saturday, Just a few hours can make a lifetime of difference to a child and you'll have a lot of fun while meeting caring people just like you! You can even secure service hours for your school or church by being a Mercy Home March for Kids volunteer!
To volunteer, call Chris at 312-738-9592 or email ChrDoh@mercyhome.org
Help Kids Through Your School, Church, or Club
You can also organize a fundraiser, like a jeans day or other activity, at your school, church group, or any club you're involved with to benefit Mercy Home's kids.
Help Kids Through Your Company
Support our mission while building teamwork by organizing a workplace fundraising program. You can host a "dress down" or "wear green" day in your office in exchange for a suggested donation to Mercy Home during the month of March, or place a Mercy Home March for Kids canister at your place of business and ask employees or customers to make a donation.
Be a Corporate Sponsor
Companies can also support Mercy Home's March for Kids by becoming a sponsor! Expose your brand to and audience of families with children as well as other corporate and key influencers.
For more information, contact Jim Marrese
Phone: 312-738-7578
Email: jimmar@mercyhome.org
Kick Off the Season at Butch McGuires
Thank you for all who came out to Kickoff Mercy Home's March for Kids!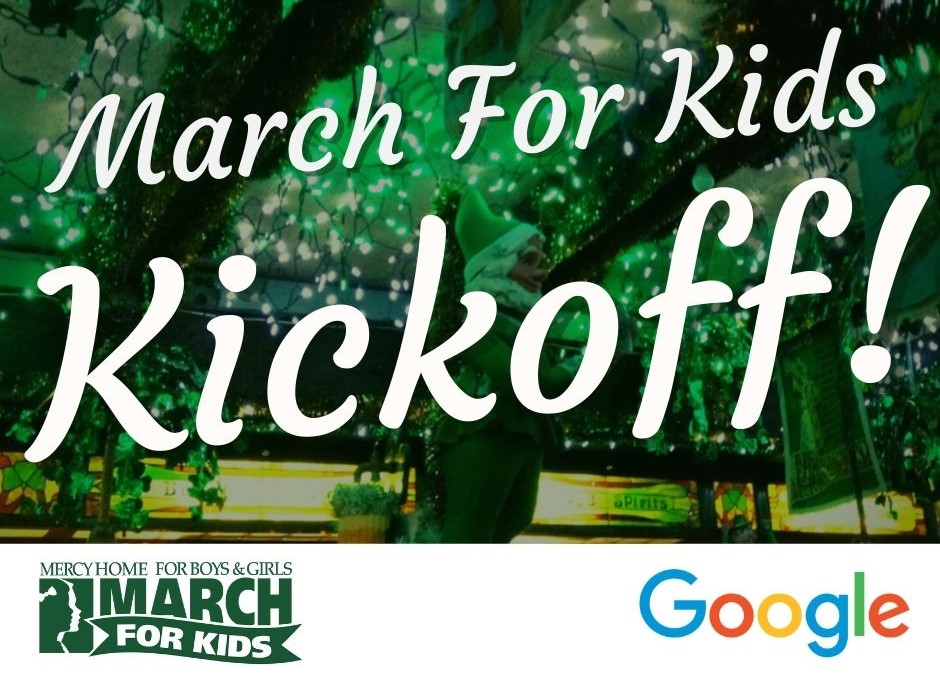 View Photos from this year's Kickoff!
---
Thank You to our Sponsors