Rocky Road Turns Smooth
[av_one_full first min_height=" vertical_alignment=" space=" custom_margin=" margin='0px' padding='0px' border=" border_color=" radius='0px' background_color=" src=" background_position='top left' background_repeat='no-repeat']
[av_textblock size=" font_color=" color=" custom_class="]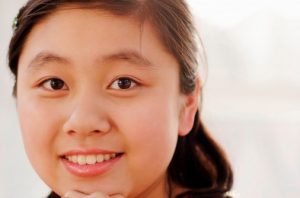 Despite being very young, so many kids come to Mercy Home for Boys & Girls having already lived full lifetimes of pain and hardship. They know what it's like to live on the run. They know what it's like to be physically and emotionally abused. They know what it's like to lose someone close to them.  Alisha knows hardships like these. But if you saw her today, you could hardly imagine all that she's overcome. 
Today, the 16-year-old high school sophomore is getting straight A's in school. She is the president of the debate club. Overall, she is a happy, ambitious teenager.  Alisha works part time at a local sandwich shop and recently made the junior varsity basketball team at her high school.  It's hard to believe that a mere two years ago, Alisha viewed simply attending high school—much less succeeding there—as nothing but a pipe dream. 
Alisha had it rough from the start. "We were always moving around," she said.  "I didn't stay in any school for more than a year." She was born to a mother who was addicted to crack cocaine, and who used the drug throughout her pregnancy.  Her biological father was arrested on drug-related charges while her mom was pregnant, and has remained incarcerated for the last 17 years.  Her mother, Kayla, who continues to struggle with drug addiction, was left to care for young Alisha by herself, and moved the two of them around frequently. Before she was 5, Alisha and her mother had stayed off and on at ten different apartments, and crashed on the couches of sympathetic friends.  Her mother often disappeared.
 "Sometimes I would come home from school to the place that we last stayed, they would tell me that my mom left, and I had to find out where she went."
Eventually, Kayla's friends and family could no longer enable her drug habits and her irresponsible ways. Nor could they allow the family to stay in their homes.  After nearly a year of toughing it out in shelters, Kayla moved herself and her daughter to Tennessee to live with a man whom she barely knew.  That man turned out to be physically abusive towards both Kayla and Alisha. 
Kayla fled back to Chicago with her daughter. Her sister Lucy, who was aware of Kayla's drug habit, offered to support her and Alisha on the condition that Kayla check herself in to a drug rehabilitation center.  In July of 2006, Kayla did, and for the first time in Alisha's young life, she was living in a stable environment in her aunt's Lucy's home while her mother was working to get clean. 
In May of 2007, Kayla graduated from rehab and set her sights creating a better life for her family.  She married a man named Tom and moved into his house in Chicago's south suburbs. Alisha now found herself enjoying the loving family life she'd always dreamed about. 
"Tom was like my dad," Alisha said.  "He always helped me with my homework and took me out to eat at my favorite places."
Things seemed to be looking up, but after just a year, Alisha received a terrible jolt.  In September of 2008, Tom was killed in a car accident.  Faced with the devastating news, Kayla relapsed and fell deep into drugs. Alisha, meanwhile, was growing into a teenager and her aunt, who was unable to support her any longer, needed to find another solution. Through a counselor at their church, she found Mercy Home. 
Alisha took to Mercy Home right away.  The structure, stability and support that we offer gave Alisha the chance to succeed.  She stopped worrying about where she and her mother would sleep that night.  She knew when and where her next meal would come from.  She was finally able to have the life that she enjoyed when she lived with Tom—but this time, she know it could not and would not be taken away.  
"At first, it was hard for me to understand that the staff at Mercy Home could care about me so much," she said.  "They've offered me more support and love in the last two years than my mom ever did."
It's because of good friends like you that Alisha has the stability, safety and support she needs to plot a course for a real future. She is determined to succeed. And she will.
You can give hope to a child like Alisha by referring a child to Mercy Home.  For more information, click here.
[/av_textblock]
[/av_one_full]