2021-06-07 06:00:00
2021-06-30 06:00:00
There are only a few hours left to help out families affected by the COVID-19 crisis. Gifts made today will be matched.
#GivingTuesdayNow is almost over. Only a few hours left to help our families affected by the COVID-19 crisis. Gifts made today will be matched up to $50,000 thanks to the generosity of a dedicated group of employees at William Blair and its matching gifts program.
Is Mercy Home for Boys & Girls a scam?
Mercy Home is aware of individuals who are attempting to solicit donations using our name door-to-door in the Ukrainian Village neighborhood of Chicago. Mercy Home does not ask for donations this way and suggests visiting our safe and secure website, https://www.mercyhome.org.
If you encounter this situation, we recommend calling the police immediately.
---
Is Mercy Home a Scam?
In this day and age, it can be difficult to tell if something you receive in the mail is a scam. But if you recently received a piece of mail from Fr. Scott Donahue at Mercy Home for Boys & Girls, we can assure you that it is no scam! We would love to tell you more about the organization and why Fr. Scott sends you mail to ask you to help support our kids.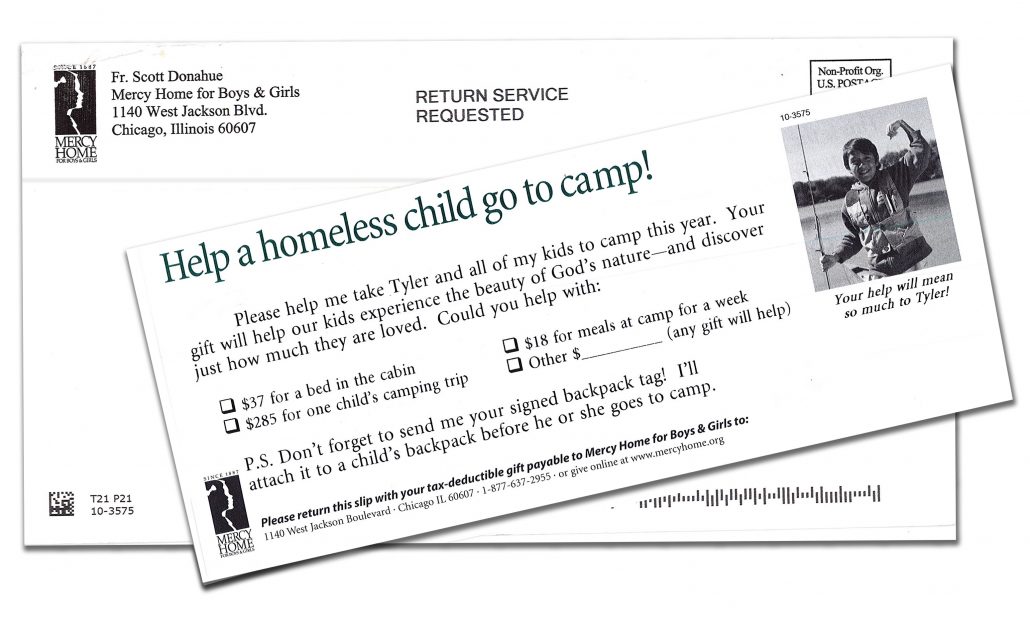 Our History
Mercy Home for Boys & Girls has been around for a long time! We have been serving young people in crisis since 1887, when Chicago Archbishop Patrick Feehan saw a need in Chicago to provide a solution to the growing crisis of homeless kids trying to make it on their own in the big city. The result was a working boys home, originally located above a library on LaSalle Street. The property on 1140 W. Jackson was purchased in 1889, and we are still located there today.
How We Help Kids
Mercy Home has expanded quite a bit since the 1800s! We now offer a variety of services to young men, women, and their families.
Mercy Home's residential care program provides abused, neglected, and abandoned young people with food, shelter, medical care, therapeutic support, and academic and vocational guidance opportunities.
Our Friends First mentoring program provides caring, supportive mentors for at-risk kids in the community.
After our young people leave our direct care, we continue to provide support. Community Care continues to work with former residents and who have moved out of full-time residential care and their family members. Additionally, Community Care operates a supportive housing program for our former residents.
Additionally, our Admissions team helps provide guidance to young people who seek help whether or not Mercy Home is the best solution for their individual needs.
About Our Kids
Young men and women ages 11-21 come to live in the youth residential program at Mercy Home in pursuit of a different vision for their lives. They seek a way forward from suffering, desperation, and poverty. They seek hope, opportunity, and success. In Mercy Home's care, they are finally able to focus on school, heal from traumas of the past, feel safe and secure in a home, develop self-control, build healthy relationships, lean on others for support, and cultivate responsibility by holding a job. In short, young people come to live with us to realize their full potential.
Who is Fr. Scott?

Fr. Scott Donahue is a real person – in fact, he's our President here at Mercy Home for Boys & Girls. Fr. Scott has been serving the young people at Mercy Home for decades. Fr. Scott's advocacy on behalf of disadvantaged children is rooted in his ministry as a Catholic priest. Ordained in 1982, Fr. Scott has served as a resident priest in a number of Chicago-area parishes. He works along with our leadership team to ensure the very best care for our young men and women.
Third Party Verification
We have worked hard to ensure that our mission and program services have been verified by independent organizations.
On the non-profit data website, Guidestar, Mercy Home has achieved as Platinum Seal of Transparency by providing required documentation.
The BBB has verified that Mercy Home has met all 20 of their standards of charitable accountability as well as listed us as an accredited charity.
Why Your Support Matters
Here at Mercy Home, we rely on support from our many friends and benefactors to care for our kids. In fact, we are nearly 100% privately funded. Fr. Scott Donahue reaches out to a variety of generous supporters each year to ensure that we can continue providing the very best resources to the young people entrusted to our care.
If you would like more information about Mercy Home, or would like to schedule a visit, please call 312-738-7560.