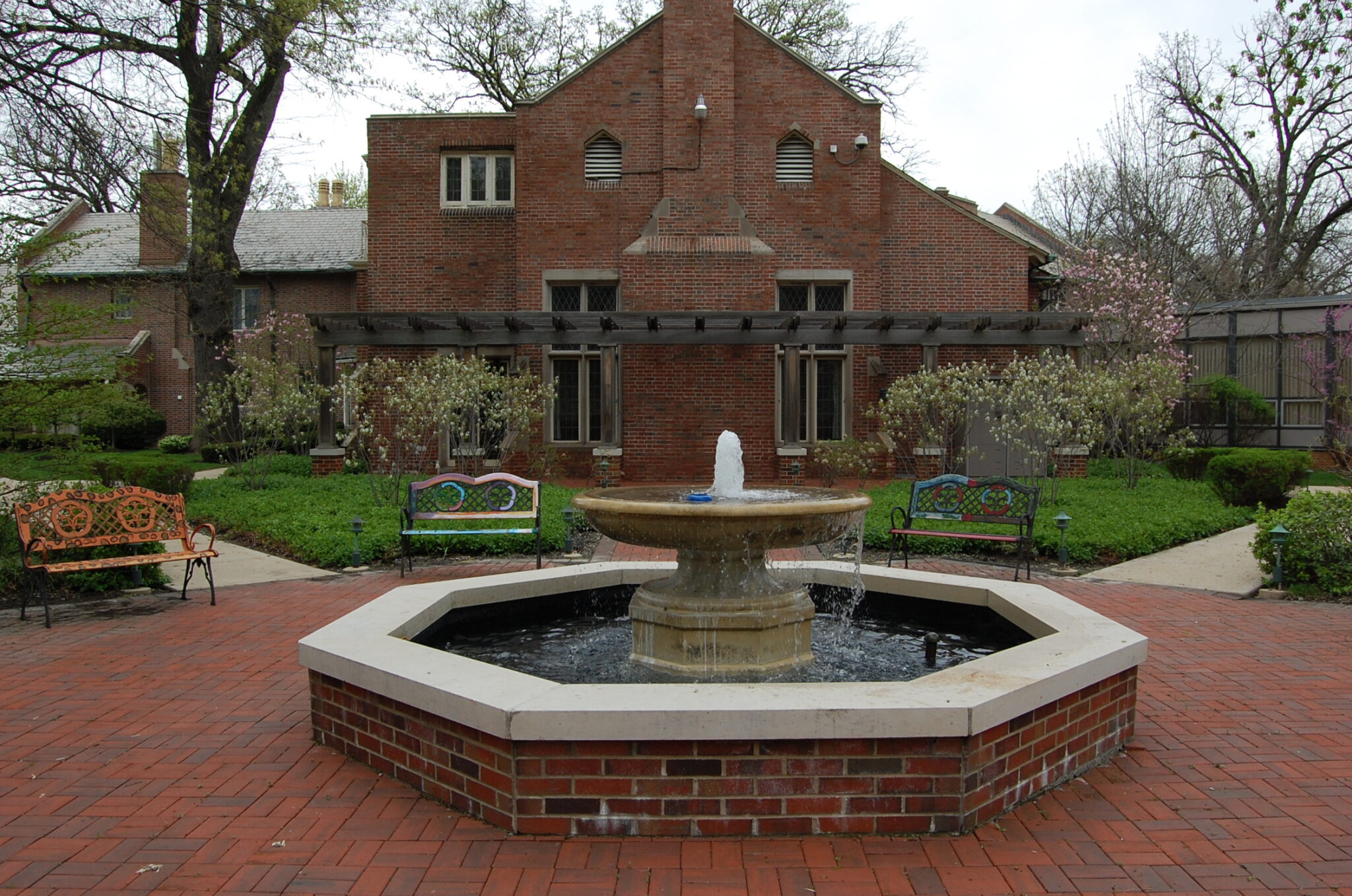 Walsh Girls Campus Tour
Welcome to the Walsh Girls Campus
Created in 1987, 100 years after the founding of Mercy Home, the Walsh Campus is committed to meeting the needs of the young women of Chicago. Nestled in a quiet neighborhood on Chicago's South Side, the Walsh Campus provides our young women the privacy and peacefulness they need to heal from past trauma. The entrance to the Walsh Campus is adorned by a Guardian Angel statue identical to the one at our Boys Campus.
Chapel
This beautiful chapel, like most of what is now the Walsh Campus, was originally owned and managed by the Sisters of the Cenacle. In addition to being a place of worship and spiritual celebration, the chapel also provides a quiet space for our young women to reflect and find solitude.
Walgreen Home – Foyer
Originally owned by the famous Walgreen family, this mansion was donated to the Archdiocese of Chicago, who in turn provided it to Mercy Home. Today, the beautiful manor serves as one of four residential programs, or Homes, at our Walsh Campus. Young people are placed in Homes based on their age, developmental and therapeutic needs. Each Home is structured to provide a healthy, nurturing and safe living environment in which the youth can learn and grow to reach their potential.
Walgreen Home – Dining Room
Therapeutic structure and scheduling is one of the critical components of our approach to serving the needs of our young people. Structure includes regular meals, chores, and hygiene routines, and each of our Homes is equipped with a dining area, laundry, restroom, and dormitory-style sleeping areas. This provides a consistent, stable living environment while also fostering a support system and sense of community amongst our children.
Walgreen Home – Living Room
Beautiful, warm and inviting, the Walgreen Home living room serves as a place for our young women to spend time with one another, from group and family therapy sessions to reading and other activities. The living room is also the site of one of our girls' favorite nights of the year: the Walsh Campus Christmas celebration. Our young women and Walsh Campus coworkers pack into the room to spend time with one another, exchange gifts, and even receive a visit from Santa Claus!
Walgreen Home – Study
Another key component of therapeutic structure includes daily study time within our Homes. After returning from school, having some time to relax, and enjoying dinner, each of our young people heads to their respective Home to study and work on homework. By providing this educational enrichment, our boys and girls are able to develop the skills they need to thrive in school.
Bernardin Hall – Kitchenette
Welcome to Bernardin Home! Here, young women ages 18 to 21 experience a pre-independent, or transitional living arrangement. This allows our girls to express and practice responsibility and advanced overall functioning. Bernardin Home underwent major renovations in 2015 thanks to the creative and generous donation of GFX International, a retail design company. In order to reflect the personalities of our young women, GFX invited them to be part of the design process, asking about their interests and color preferences—they even used a quote from one of our girls to decorate the common area!
Bernardin Hall – Living Room
Before heading to the bedrooms, here is another example of a living room from Bernardin Home. Each space is decorated and arranged to facilitate a sense of comfort, community, and safety—a place to call home.
Bernardin Hall – Bedroom
Each Home is equipped with dormitory-style sleeping arrangements, with either one or two beds per room. These living arrangements promote healthy living habits and foster a sense of boundaries and respect amongst our boys and girls.
Computer Lab
Mercy Home is committed to providing our children with the tools they need to succeed, including computers and monitored internet access. We have also created Education & Career Resources, a department that provides our children with academic and vocational guidance and resources, ensuring our children have the support they need to achieve their dreams.
Library
No home is complete without books, and our Walsh Campus library serves as the perfect place for our young women to catch up on their school reading, study, or just enjoy their favorite novel.
Craft Cottage
Renovated in 2015, the Craft Cottage gives our young women the opportunity to explore their creativity, and also serves as a place for groups to participate in art therapy led by our full time Craft Cottage coordinator. Our young women work together and individually on project-based assignments, and with the cottage stocked full of supplies, our young women have everything they need to express themselves through art.
Fitness Center
Physical fitness and well-being are integral aspects of our therapeutic approach, which is why we have designated exercise rooms at both of our campuses. The equipment is provided by generous friends of Mercy Home, and our kids receive instruction on proper use and safety before exercising in the fitness center.
Courtyard
The courtyard is a flurry of activity in the summer months as our girls take advantage of the beautiful Walsh Campus grounds. The courtyard is also home to a Mercy Home tradition: the Men's Barbecue. Once a month, a group of our male coworkers travel to the Walsh Campus in an effort to introduce our young women to positive male role models.
Gardens
The former backyard of the Walgreen mansion now serves as an entryway to our Walsh Campus garden. Tucked away from the rest of the Campus grounds and the neighborhood, the gardens are a wonderful place for our girls to spend time outdoors.
On this last stop on our tour, you can see the hidden gem of the Beverly neighborhood: our Walsh Campus Garden. This hidden sanctuary is tended by our girls, who learn to grow the fruits and vegetables that will be later served in our kitchen. The Dawn Brancheau Foundation, who are dedicated supporters of Mercy Home, visit each summer to help our girls tend to their garden, teaching them how to plant and harvest their crops. For many of our children who have never left their urban environment, the garden is a wonderful way to experience the healing power of nature.