Recently, our young people had the opportunity to get a behind-the-scenes look at our beloved hometown hockey team, the Chicago Blackhawks! Our kids were anxious to participate in a Q&A with Blackhawks employees and tour Chicago's United Center.
This visit was part of our Summer Career Institute, which provides our boys and girls with exposure to professional career options post graduation. The goal of this program is also to keep young people engaged in active learning during the summer months, a time where kids may otherwise run the risk of being idle.
All summer long, they have attended seminars and group events centering on professional development, relationship building, resume building and other skills that will benefit them as they step into young adulthood. In addition to the visit with the Blackhawks, our young people were invited into the hustle and bustle of Chicago's corporate arena. From law offices to architectural tour boats, their exposure to these spaces nurtured their professional curiosities and ambitions, with the hope that they would bloom into real-life success.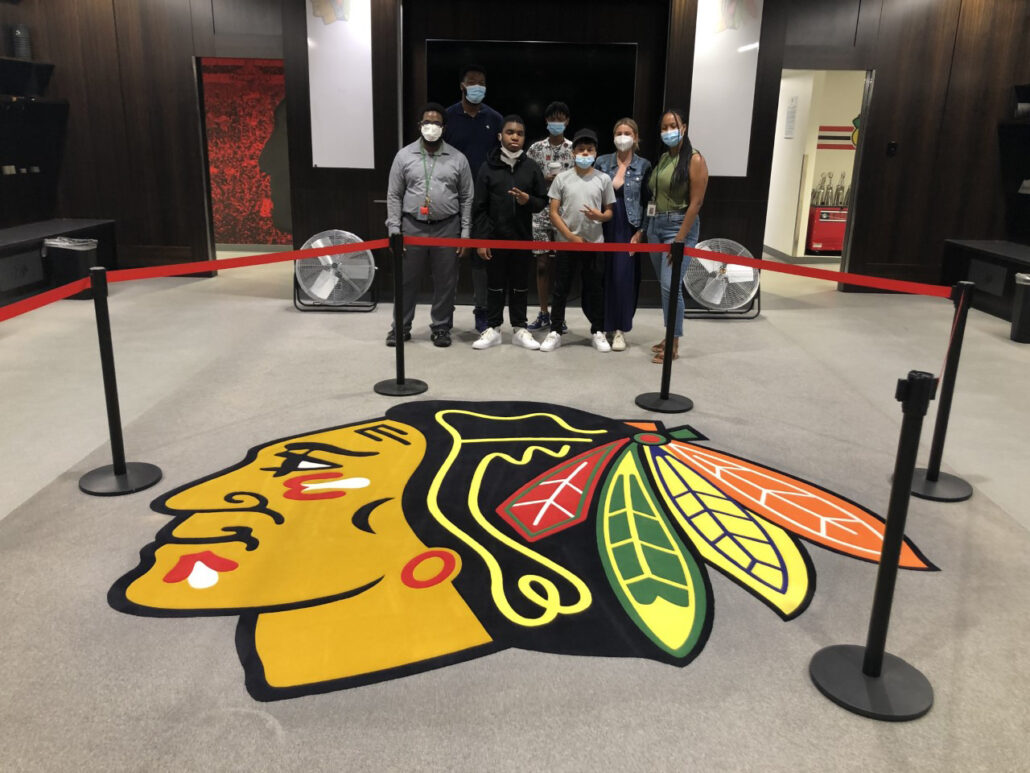 The visit with the Blackhawks began less than a mile west of Mercy Home at Fifth Third Arena, the practice facility for the team adjacent to the famed United Center. In a conference room overlooking the freshly smoothed ice of the rink, our kids were treated to an engaging Q&A with a panel of young professionals who work in the Blackhawks' organization.
All with diverse areas of expertise, panel members were able to share a wide variety of tips and advice for our ambitious youth. One employee, for example, worked in analytics and moved to Chicago specifically to work with the Blackhawks. He told them that a career business could take you in many different professional directions – even working for a hockey team!
And, more personally, he inspired the visitors not to be afraid to take risks in their career.
Other employees worked in customer relations and handled the accounts of long-standing Blackhawks season ticket holders. Their advice stressed the importance of good people skills, how to be an active listener, and tips for breaking into the sports industry.
All of the employees were passionate about their careers in sports, but they were also transparent about the challenges involved in securing a job in the sports industry. Their sentiments were nearly the same: that manifesting a career in sports takes hard work and perseverance. One employee, before joining the Blackhawks this year, had been searching for a job in this field since 2019.
Still, all were greatly satisfied with their current roles, and were overjoyed to share their experiences. During the Q&A, our kids asked questions related to making professional connections, using LinkedIn to find internship opportunities, and how to be an employee that makes an immediate impact on a company. While the young people had various interests, they were all thrilled to learn from Blackhawks employees.
During their discussion, Blackhawks staff members also encouraged our youth to use their gifts to their advantage, and to pursue what their passions. After being asked by an employee about their career goals, our kids expressed interests in such varied areas as game design, architecture, and social work. The Blackhawks employees offered our youth substantial advice on how to pursue their goals.
Next, after crossing the street to the United Center and descending into its lower level, our young people were treated to a tour of the players' locker room, adorned with championship memorabilia and pristine team equipment and apparel. The walk to the locker room passed through a dimly lit hallway, but it only helped our youth imagine the excitement that players, entertainers and politicians must experience as they anticipate the main event.
The United Center holds crowds of up to 23,000 sports fans, concert goers, political enthusiasts, and conference attendees. And with over 200 events each year, the United Center is a popular destination for live events and memorable moments in American history. Since opening in 1994, the United Center has welcomed more than 44 million guests into its doors.
Once arriving in the locker room, our young people saw the large Blackhawks logo that stretched across the pristine carpet. To keep this symbol unblemished, staff directed our kids not to walk over the emblem. Along the walls, the names of Blackhawks players lined the dark mahogany wood. And above each name, a shining white hockey helmet crowned their lockers, waiting patiently to be worn come game day.
Adjacent to the locker room was the players' personal cafe, used for pre and post game fueling at the player's convenience. Here, our young people looked right at home as they tested the comfort of the lounge chairs and sofas.
Before exiting the locker room, our youths were then starstruck by the championship trophies lining the front wall, encased behind spotless glass cabinets.  One of the oldest teams in the NHL, the Chicago Blackhawks have been a venerable force for their opponents and the many glittering, diamond studded rings and solid gold medals were proof of its proud legacy.
As they continued to tour the facility, our young people took the opportunity to ask some final questions:
What did you study in school to get here?
What are tips for a memorable interview?
How can I make my resume stand out?
Back in the main lobby, our kids were still thirsty for insight, and Blackhawks employees were quick to shower our young people with advice that will benefit them the rest of their professional and academic lives.
Before heading back to Mercy Home, our young people expressed their tremendous gratitude to the Blackhawks employees, who in turn encouraged our young people to keep in contact.
Thanks to Mercy Home's friendship with the Chicago Blackhawks, our young people were exposed to a life-changing experience that will positively impact their lives for years to come. Still, these opportunities wouldn't be possible without the friendship of our donors. We are so grateful for our Mercy Home supporters who allow us to continue our mission to provide hope and healing for our boys and girls.