Chicago, November 4, 2022–For the 11th consecutive year, Mercy Home for Boys & Girls secured a coveted spot on the Chicago Tribune Top Workplaces list. The award was announced during a virtual event last evening. 
The list is based solely on employee feedback gathered through a third-party survey administered by employee engagement technology partner Energage LLC. The anonymous survey uniquely measures 15 culture drivers that are critical to the success of any organization: including alignment, execution, and connection, just to name a few.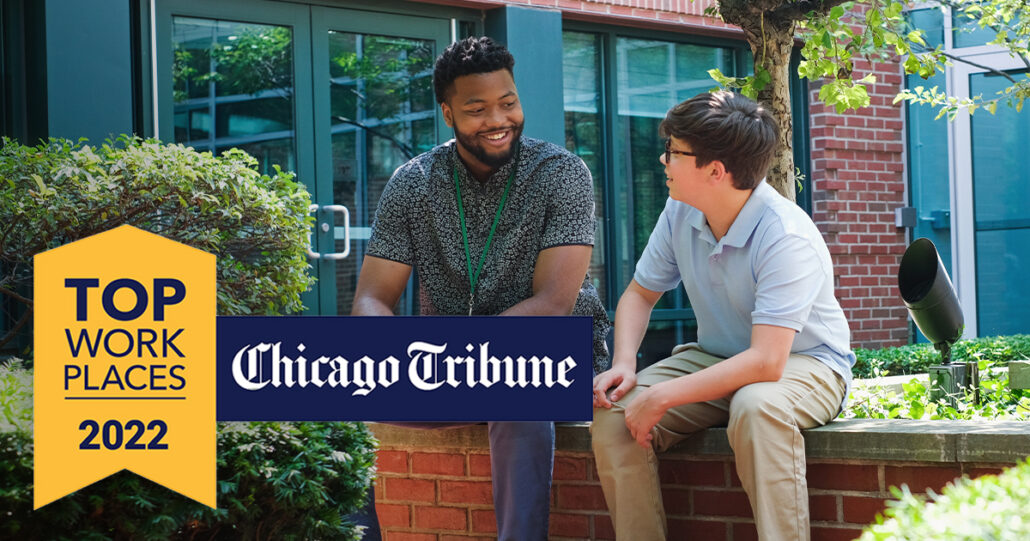 Feedback from the surveys reveal that Mercy Home's long-running success as a Top Workplace owes to a strong, mission-focused workplace culture and to the caliber of professionals who are drawn to working at one of the city's most venerable non-profits.
"I am so immensely proud of my coworkers for all that they do every day on behalf of the young men and women entrusted to our care," said Mercy Home President Fr. Scott Donahue. "That we've earned this award for 11 years running is continued and well-deserved recognition of their incredible dedication, creativity, and professionalism. It's also a testament to how well we take care of one another as an organization. Truly, the success of our young people depends on the overall health and satisfaction of our coworkers."
The same factors that continue to land Mercy Home on the Top Workplaces list also enabled the 135-year-old youth-care agency to provide top-quality care throughout the COVID-19 pandemic despite its many challenges. Now as vaccines improve and infection rates lessen, Mercy Home is seeking to provide care for more young people in need. A critical piece in that expansion, however, is to bring more new coworkers aboard in the coming months in all areas of the organization, but especially in roles working directly in the care of young people. 
Truly, the success of our young people depends on the overall health and satisfaction of our coworkers.
– Fr. Scott Donahue
"The need to extend our services to more children and families in crisis is great, as is so evident simply from watching the nightly news," Fr. Donahue said. "We are reaching out to caring people who have a desire to change young lives to consider applying for one of our open positions.
Citing the results of the Top Workplaces surveys, he added, "Our current coworkers make it clear that it's rewarding work and that Mercy Home is a great place to make your professional home."
To determine the Top Workplaces, the Chicago Tribune invited Energage to conduct and analyze confidential surveys of more than 100,000 Chicago-area employees, including our Mercy Home coworkers. The results determined the top-ranking small, mid-sized, and large organizations in the area. Mercy Home again earned its spot among mid-sized organizations, which was defined as those employing between 250-999 people. The list of winners was published in a special section inside today's Chicago Tribune.
Mercy Home is hiring!
There are multiple opportunities to join the team at one of Chicago's Top Workplaces. We're looking for passionate, driven coworkers who want to help young people build brighter futures.  Learn more about working at Mercy Home and see if one of our available positions is right for you.