Supporters went all in to make this year's Mercy Home Poker Night the biggest, most well-attended, and most successful to date. More than 350 card sharks, high rollers, novices, and spectators alike filled The Forum @ 110 inside the Bank of America Tower and warmed up a midwinter night in Chicago with a little Las Vegas sizzle.
Guests enjoyed incredible food catered by Gibsons, the former home of past Poker Night events, as well as casino tables, raffles, and our big Texas Hold 'em tournament. On the line this year were $25,000 in prizes, including the grand prize—a seat at the World Series of Poker in Las Vegas, Nevada.
Before the evening's first cards were dealt, Mercy Home President Fr. Scott Donahue expressed his gratitude for all those who helped make Poker Night one of the most popular in our annual lineup of fundraisers nearly from the start.
"Truly, if you hear one word from me tonight, it's gratitude," Fr. Scott said. "I'm so thankful for you and for your commitment to the young people in our care."
Among those Fr. Scott thanked were Mercy Home's board members who helped sell the event and brought new friends to learn about our mission. He singled out Peter Argianas, Chairman, President, and CEO of Gold Coast Bank, for first proposing the idea for a poker fundraiser more than a decade ago and current board chair Bob Carmody for his enthusiastic support of our events, even altering his travels from warmer climes to be with his fellow board members.
Fr. Scott also expressed the hope that the biggest challenges posed by the COVID-19 pandemic were behind us, and that the robust attendance on this night was but one indicator. Mercy Home's mission relies on the support it receives from donors, including those who are actively involved in its special events throughout the year. So, the strong turnout for Poker Night was a hopeful way to start the new year.
"This was the most successful [Poker Night] fundraising to date," said Jim Marrese, Director of Business Development and Strategic Initiatives at Mercy Home.
Similarly, this year's sold-out event boasted a guest capacity that broke attendance records. For the first several years, Mercy Home Poker Night was hosted at Gibsons Bar and Steakhouse, an iconic but more intimate venue in Chicago's Gold Coast. To accommodate ever-increasing demand, the event was moved to the larger riverfront space within the Bank of America Tower. Yet guests didn't have to sacrifice Gibsons' mouthwatering cuisine for space, as the restaurant catered the event at its new location.
"This [venue] is perfect for us," Marrese said, citing a surge in requests for tickets. "The special events team did an incredible job adjusting and we brought in four more poker tables than we would normally have. It was crowded, but it never felt uncomfortable."
In addition to raising funds, special events like Poker Night also give us the opportunity to introduce new friends to the Home, many who remain active supporters of our work throughout the year. Accordingly, our event host committee reached out to their peer networks, many bringing 10 or more people to the event.
[This] created a lot of excitement and energy that I think was felt that night
– Jim Marrese
That environment along with the spacious setting encouraged friends old and new to interact with Mercy Home coworkers and supporters to learn more about ways they can support our young people's goals.
"The hope of [this event] is that through conversations with Mercy Home coworkers, with Fr. Scott, or through the presentation, we really have an opportunity to introduce the Home to a bunch of new people," Marrese said. "That can then translate into either new donors or volunteers or mentors."
As with all events, our sponsors play a critical role toward meeting our ultimate goal—generating the resources Mercy Home needs to give kids a safe home, healing, and tools to build brighter futures.
That includes spreading word about the event to boost ticket sales while simultaneously increasing awareness about our work. For example, media sponsor 670 The Score, Chicago's sports radio, ran promotions on their station throughout the month.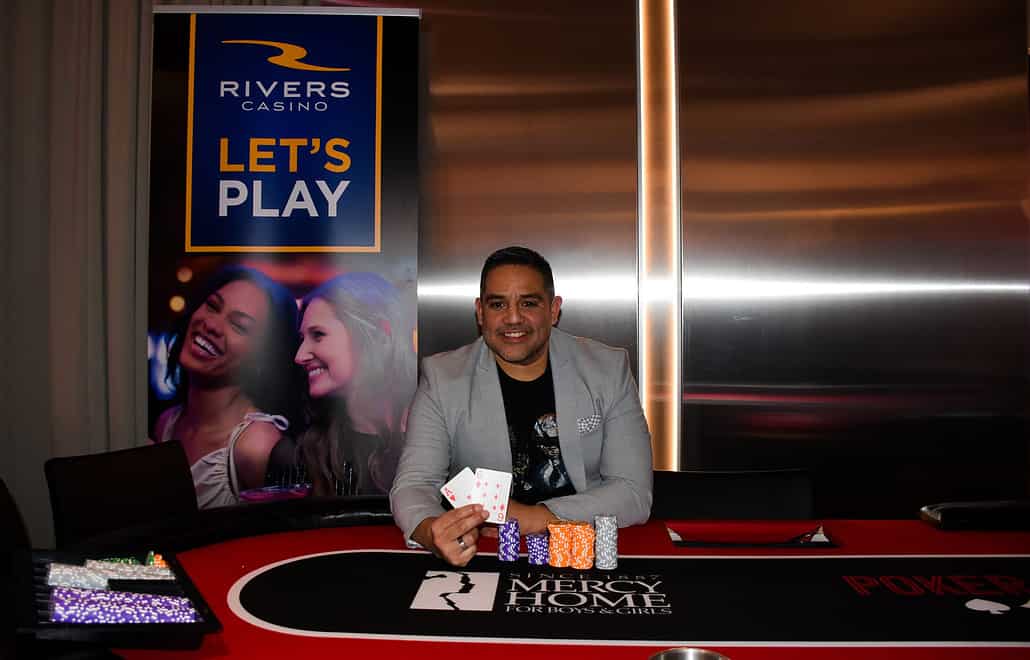 On site, sponsors provided products that enhanced the guest experience while inaugurating conversations with potential new customers. Donated food and drink sampling set-ups increased the amenities available for guests to enjoy. The raffle offered chances to win autographed Chicago Blackhawks and White Sox gear, Cubs and White Sox tickets, a Solo Stove, an Apple Watch, and more. And poker players vied for the chance to win up to prizes including a 65-inch flat screen TV, Chicago Staycation, Chicago Bulls center court seats, a James & Sons gift certificate, a pizza oven, and a seat at the World Series of Poker in Las Vegas, valued at over $10,000, for the tournament's big winner.
Between ticket sales, sponsor support, poker re-buys, raffle ticket sales, and more, the funds raised at Poker Night will impact our kids all year long. We are grateful to all our guests, host committee, event staff and volunteers, and our generous sponsors, of whom we also enjoyed a record number. These included—among many others—presenting sponsors Rivers Casino, Performance Wealth, and Ullico, as well as our Big Blind sponsors Wintrust Community Bank, Connelly Electric, Worsek & Vihon LLP, ATG, Gold Coast Bank, William Blair, and Cavanagh Law Group.
Thanks to all involved, guests truly enjoyed a night of competition and camaraderie while making a difference in young lives. We look forward to seeing you at another successful Poker Night in 2024!