2021-04-01 18:00:00
2021-05-01 01:00:00
There are only a few hours left to help out families affected by the COVID-19 crisis. Gifts made today will be matched.
#GivingTuesdayNow is almost over. Only a few hours left to help our families affected by the COVID-19 crisis. Gifts made today will be matched up to $50,000 thanks to the generosity of a dedicated group of employees at William Blair and its matching gifts program.
Celebrating Silver in the 60s
Celebrating Silver in the 60s
Mercy Home Celebrates 75-Year Anniversary
In October 1962, as the world's two superpowers faced off in the Cuban Missile Crisis, Monsignor Edward J. Kelly was keeping himself busy preparing to celebrate Mercy Home's Diamond Anniversary. To honor 75 years of service, Kelly sent our donors this silver medallion. It measures about 1 ¼" x ½", and has an image of Jesus on one side and the Blessed Mother opening her arms to a young boy on the other. It would be another 25 years, and another major anniversary, until we would found our permanent home for girls on Chicago's South Side.
Meanwhile, Mercy Home served about 90 young men on the near West Side of Chicago in 1962. One young man who entered the Home that year was 16-year-old John DePalma.
1960s Resident Remembers His Time at Mercy
DePalma recalls the daily schedule for all of the boys at the Home, which began at 6:15 a.m. sharp. The boys attended Mass before breakfast. Then, with the 60 cents Fr. Kelly gave to every boy each week, John and his buddies would purchase day-old bread from a nearby bakery. He remembers how all of the boys received jackets for Christmas.
DePalma said the neighborhood around the Home was very different than today. "It was skid row," he recalls. The boys were not allowed to be out past 7:00 p.m. on any given night. DePalma passed the time during those evening hours playing pool or watching his favorite Westerns on the Home's single television set.
DePalma remained at the Home through 1968, during which time the world continued to reel from dramatic events, including the assassinations of John and Robert Kennedy and Martin Luther King, Jr., frequent urban upheavals, and the Vietnam War. While he was in the ROTC program at a nearby high school, he  was never drafted. But he did watch many of his peers at the Home go to war. Some would return, but most would not.  Reliving the anguish of losing close friends, he sighed, "I cried a lot here.  Had to go to a lot of funerals."
DePalma also reminisced over joyous moments he had at his home.  He smiles when he recalls the dances with the girls from the nearby Rita Club.  "Those were fun!" he said with a chuckle.  He remembers getting to know Cassius Clay, who would soon become known as Muhammad Ali. Both Ali and Ernie Terrell, whom Ali defeated in a controversial bout in 1967, trained in the CYO boxing gym that was located at the Home during the early 60s. DePalma said that Ali would even play fight with some of the boys, showing them how to "float like a butterfly and sting like a bee."
DePalma was away from the Home for just two years when he approached Fr. Kelly for a job. Kelly always trusted the long-time former resident, who came to be seen as a leader among the boys at the Home. He was hired on the spot and continued to work the grounds until his retirement in recent years. There is a garden named in his honor on our boys campus today.
As Monsignor Kelly reached out to supporters to reflected on the Home's 75th anniversary, he wrote that the young men who had passed through Mercy Home's doors and were now earning their livelihoods throughout the world were "living symbols of the kindness, solicitude, and generosity of thousands of friends of the Mission throughout America." Ailing from cancer, Kelly would retire as president in 1973 and passed away that same year.
Sean Freeman contributed to this article.
Discover More
130th Anniversary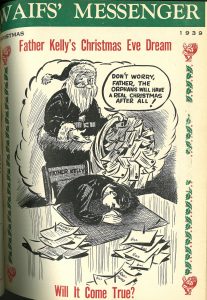 As Mercy Home celebrates the end of its 130th year, we look back at the many Christmas seasons our young...
December 4, 2017
130th Anniversary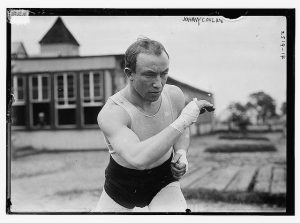 Learn how Johnny Coulon, former boxing champ, lost his title in a fight supporting Mercy Home - and still made...
October 1, 2017
130th Anniversary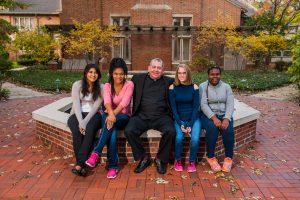 To culminate our anniversary celebration, we highlight "Years of Mercy," a book by our President, Fr. Scott, about the miracles...
September 14, 2017