Rich Daniels, former chairman of Mercy Home's Board of Regents and current member of its Board of Directors, was recognized for his contributions to the Chicago Archdiocese's local immigration ministry and national Pastoral Migratoria. Cardinal Blase Cupich presented Daniels with the ministry's Lifetime Achievement Award; the highest honor bestowed each year at its Keep Hope Alive fundraising dinner. Held at St. Ignatius College Prep, the 10th annual event was hosted by the Cardinal and co-chaired by Jorge Ramirez and Rev. Clete Kiley. The Immigration Ministry of the Archdiocese of Chicago, Pastoral Migratoria serves as a national model for supporting undocumented and documented immigrants and promotes the Gospel imperative for communion among all persons, including these communities.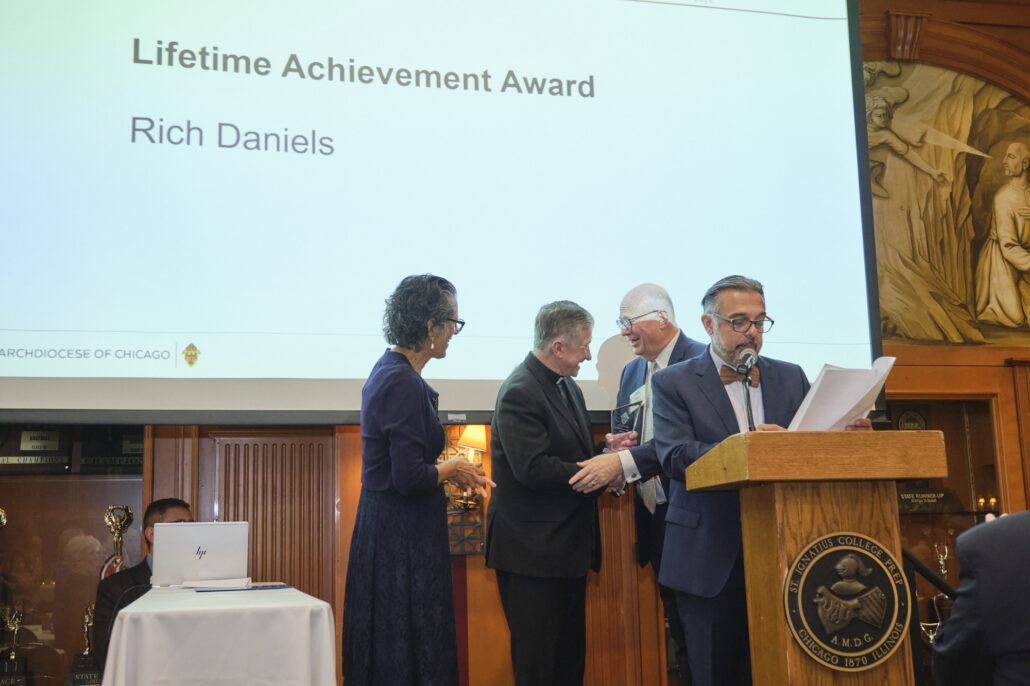 A member of the ministry's board for 10 years, Daniels' advocacy for immigrant issues is rooted in his own sense of gratitude for the opportunities he and his family has been afforded in the U.S. He has enjoyed incredible success in music and serves as musical director of the City Lights Orchestra. But he's also the grandson of Italian immigrants. During his acceptance speech, he reflected on "The American Experiment," which he said, "was meant to be a place where all of us could come together to worship how we see fit, raise our families according to our customs and live in a country where we would not need to fear a government oppressing us in harmful ways."
Turning to the many family members and friends present, he expressed thanks for the people in his life and the fulfilling career he has enjoyed, all of which stemmed from those opportunities. "How fortunate are we who were born into this country and able to thrive and benefit from that very life," he said.
Cardinal Cupich stressed the urgency of the ministry's work in a press release about the event. "We Christians are called to welcome the stranger, the migrant, the refugee, because they, too are children of God, all of us members of the same family, the human family," Cardinal Cupich said. "After all, Jesus himself was a refugee, as Mary and Joseph were forced to flee their homeland because it had become too dangerous. When Christians choose to help our immigrant brothers and sisters, we are doing as Jesus taught — we are choosing to see in them the Holy Family, who only wanted to live. We are choosing life."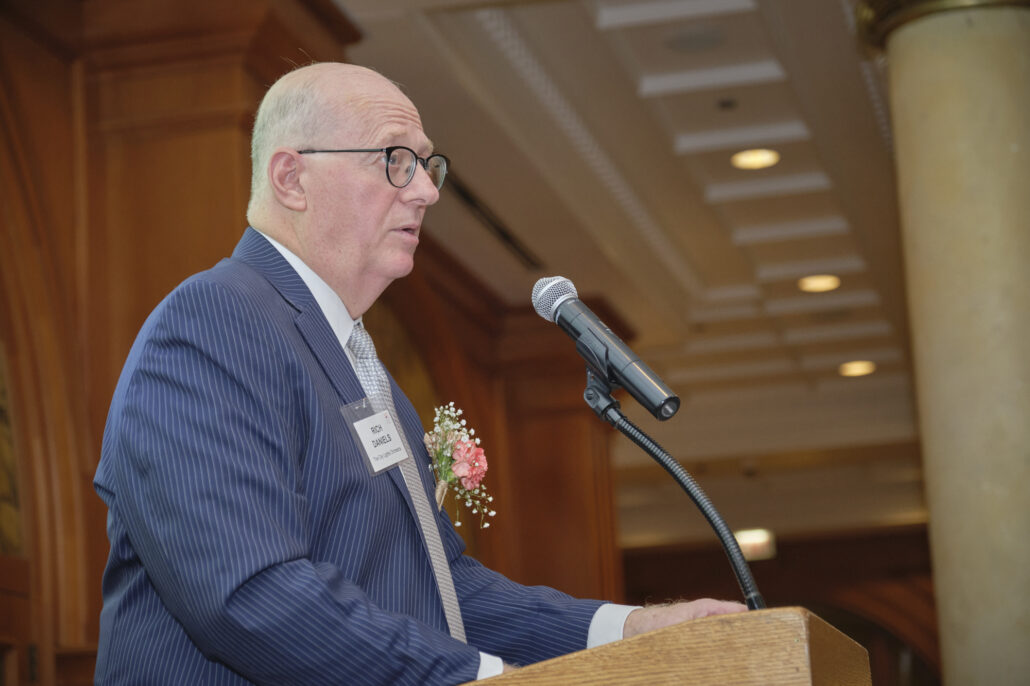 In his own remarks, Daniels praised the efforts of the Immigration Ministry, noting that it "works in inspiring ways to help the most vulnerable amongst us find a path to citizenship so that they can participate in this blessed democracy."
He also acknowledged the Gainer family, and in particular Maureen Gainer Reilly, a Mercy Home Leader Council member, for her efforts in making the fundraiser a success. Reilly recently joined the ministry's board as did her sister Sheila Gainer.
Daniels' friends from Mercy Home were well represented at the event on Monday evening. Fr. Scott, board members, and coworkers were on hand to show their appreciation for Rich's efforts on behalf not only of the immigration ministry, but also Mercy Home.
"We are truly grateful for Rich's service to this mission for so many, many years," Fr. Scott said. "I know that Mercy Home is so near and dear to his heart, and he expresses it often. But more than words, it's the advocacy, involvement, and generosity he shares so freely with us that has advanced our work and enabled us to give hope to more children and families in need. I am truly grateful to call him a friend."
Congratulating him on the award, Fr. Scott said, "It is a well-deserved recognition of Rich's outstanding commitment and I know that so many in our Archdiocese and beyond would say the same." Daniels has been an ardent supporter of numerous causes within the Chicago Archdiocese, including Mercy Home, providing entertainment for our fundraising events, generating support through programs like March for Kids, and providing leadership on our Board of Regents since 1997.
Congratulations to Rich Daniels for his Lifetime Achievement award from the Archdiocese's immigration ministry!