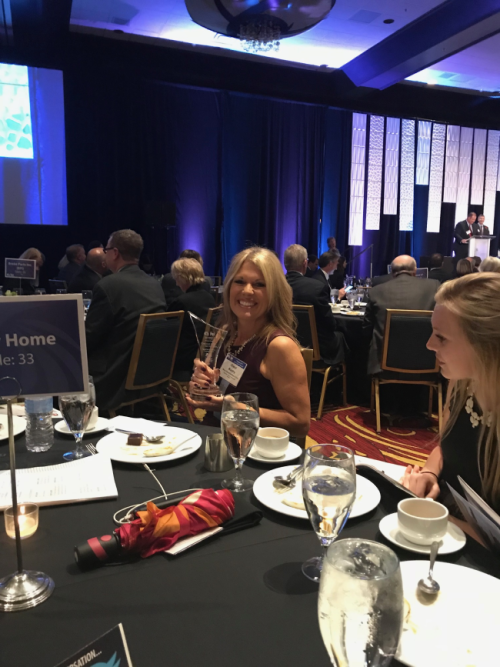 Congratulations to Mercy Home's Chief Financial Officer and Vice President of Finance, HR, and Facilities, Cheryl Murphy, on being recognized in the list of Crain's 2019 Notable Women Executives Over 50!
In order to qualify for recognition, honorees needed to be in a C-suite (executive) role, have turned 50 by the publication date, and be based in the Chicago area.
As an introduction to the nominees, the newspaper noted that only 4.8 percent of Fortune 500 CEOs are women, and that women account for less than a quarter of senior roles globally. But despite those numbers, women like Cheryl are thriving in executive roles in Chicago!
"That should provide encouragement and inspiration for the next generation of women moving up," they wrote.
Cheryl herself was taken aback by the recognition.
"I was shocked, surprised, and humbled," she said of the moment she found out she was being honored.
This is not the first time Cheryl has been recognized by both her peers and the public for career excellence. In 2017 and 2018, she was one of the winners among 700 nominated for CFO of the Year by the Chicago chapter of Financial Executives International.
"I am sincerely passionate about and proud of the work Mercy Home does, and that in itself motivates me."
Among all her strengths, Cheryl said that the opportunity to work with all parts of the Home and her passion for the work we do are her greatest assets for success.
"I have been given the opportunity to work and interact with all parts of the agency, and because I have that privilege, it helps me make better decisions on a daily basis that are better for the agency as a whole," she said. "In addition, I am sincerely passionate about and proud of the work Mercy Home does, and that in itself motivates me."
In addition to her own success, Cheryl is also passionate about the success of the coworkers she manages at Mercy Home.
"For me [to help them be successful], it's taking the time to understand what's important to somebody and what their personal goals are and then coming up with ideas that create a win-win for both them and Mercy Home," she said. "I genuinely care about people as individuals, so it is first important that people are happy in their own lives. Only then are they capable of giving their all to Mercy."
Cheryl has certainly given her all to Mercy Home! Last year, she ran the Bank of America Chicago Marathon as a Mercy Home Hero to raise money in support of our kids.