For the 12th year in a row, Mercy Home for Boys & Girls was named to the Chicago Tribune's Top Workplaces list. The award was announced during the 14th annual Chicago Tribune Top Workplaces Awards.
The list is based solely on employee feedback gathered through a third-party survey administered by employee engagement technology partner Energage LLC. The anonymous survey uniquely measures 15 culture drivers that are critical to the success of any organization: including alignment, execution, and connection, just to name a few.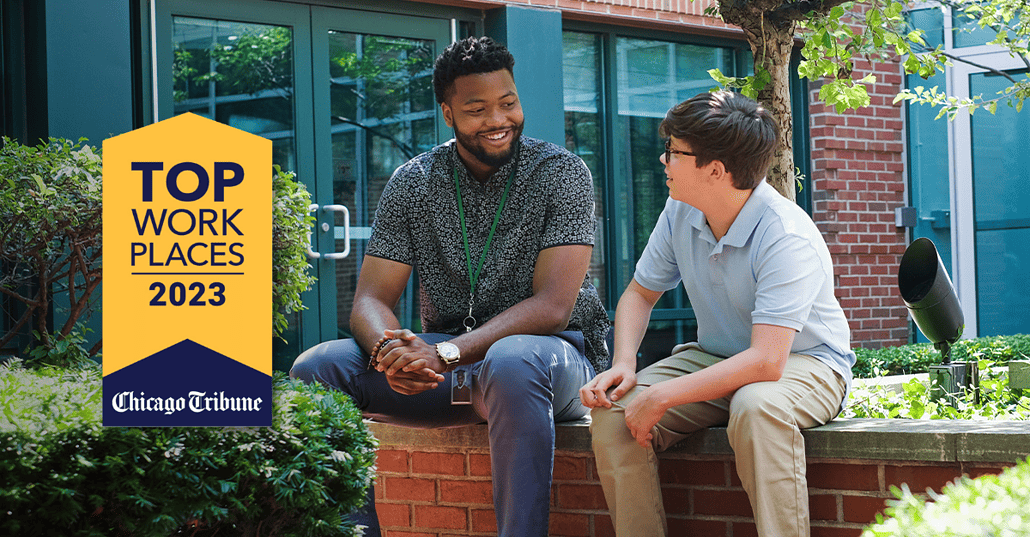 "No one got here by accident, said Energage media partnerships director Bob Helbig "You can't buy your way onto the list. You've got to earn it."
Mercy Home is unique among others on the list for its longevity. Mercy Home has been named at top workplace every year since it first participated in 2012. While only six companies have been on the list for longer, Mercy Home is just one of three who are celebrating their 12th appearance this year.
"To make this list year after year is something for which I am incredibly proud, of course" said Fr. Scott, "But what is truly gratifying to me is that it's our coworkers who put us there and keep us there. And it's really thanks to the culture that they have created through their work together at Mercy Home for Boys & Girls."
What is truly gratifying to me is that it's our coworkers who put us there and keep us there.
– Fr. Scott Donahue
Survey responses consistently show that the sense of mission and being able to make a difference in the lives of others are important factors in coworker satisfaction. "I tell everyone I talk to about Mercy Home that we have the best coworkers," Fr. Scott said. "I feel that the work that we are about attracts dedicated, compassionate people to make their professional home here. And that's true not just for those who work in direct care, but also for coworkers throughout the organization. Everyone makes an important contribution to this mission to bring healing and opportunity to the young people entrusted to our care."
Mercy Home continues to reach out to caring professionals throughout our area to consider working at Mercy Home. We have made great strides in filling the positions needed to care for more young people following the pandemic, but there are still a number of opportunities.
"The need to extend our services to more children and families remains as important as ever," Fr. Scott said. "So, it's so important that we continue to attract highly motivated professionals to our workplace."
To determine the Top Workplaces, the Chicago Tribune invited Energage to conduct and analyze confidential surveys of more than 100,000 Chicago-area employees, including our Mercy Home coworkers. The results determined the top-ranking small, mid-sized, and large organizations in the area. Mercy Home again earned its spot among mid-sized organizations, which was defined as those employing between 250-999 people. The full list of winners was published in a special section inside the Chicago Tribune.
Mercy Home is hiring!
There are multiple opportunities to join the team at one of Chicago's Top Workplaces. We're looking for passionate, driven coworkers who want to help young people build brighter futures. Learn more about working at Mercy Home and see if one of our available positions is right for you.